For convenience, efficiency, and all-around performance, it's tough to beat a modern heat pump. Due to the many energy-saving advantages, these innovative solutions to year-round temperature control have gained popularity in recent years. While installation involves considerable technical skill and specialized tools, the team from Conway Air Conditioning has the factory training, industry resources, and in-field experience to provide accurate workmanship and ensure the highest rewards from your new system.  
As a Carrier Factory Authorized Dealer, we are held to exacting standards in business practices, customer satisfaction, and every technical service we provide. Our licensed specialists have the necessary qualifications to accurately size, locate, and install state-of-the-art heat pumps.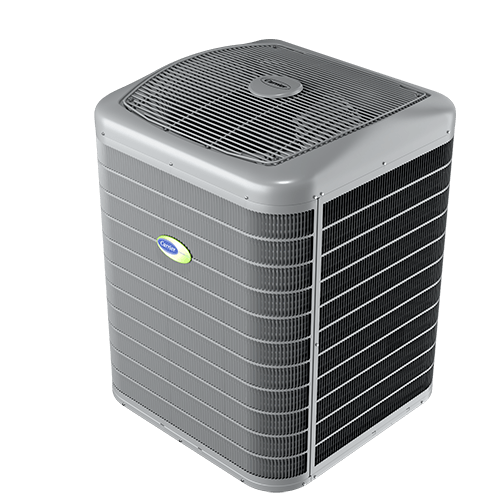 Enjoy the benefits of a modern heat pump system!
With a range of choices in size, price, and features, Carrier satisfies both affordability and modern convenience. The Carrier Infinity 20 Heat Pump with Greenspeed Intelligence delivers groundbreaking technology, 20.5 SEER in cooling mode, sound down to 58 decibels, and an unbeatable 13.0 HSPF in heating mode. When you consider the precision, intelligence, and energy-saving features of this system, prepare to be amazed. Partnering adaptable speed technology with Infinity Control creates Greenspeed Intelligence. This makes for a very smart system. The unit responds to changing conditions within the home, making operational adjustments in one percent increments between 40% and 100% capacity.  
Through one, user-friendly device, you tailor temperature, humidity, fan speed, ventilation, and air quality to your exact preferences. The system will remember how up to eight family members like their comfort, and respond accordingly. It even knows to conserve energy when you're away from home and welcomes you back with ideal temperatures. Track energy use, get filter and maintenance notifications, switch from heating to cooling, and make adjustments from your smartphone, computer, or tablet.  It's no wonder this amazing heat pump qualified for ENERGY STAR's Most Efficient 2012.
For expert heat pump installation, repairs, or service, contact Conway Air Conditioning today!
Electric heat pumps do not convert electricity into heat, but absorb heat from the atmosphere, multiply it, and then transfer the heat into the home. By reversing the flow of refrigerant, the system transfers heat out of the house in the summer, creating a cooling effect. Heat pumps are clean, efficient, safe, quiet, and environmentally friendly.  Because the unit does not require a flue to vent exhaust gases, there is much more flexibility in location.  
To learn more about the many benefits of heat pumps, discuss options, and get started on your project, contact Conway Air Conditioning at 843-350-0099. Family-owned and operated, we are entirely dedicated to your satisfaction. All projects are completed in a timely, organized fashion, with the utmost respect for your home, property, and investment. Conway Air Conditioning – providing comfort to families for over sixty years.