Ductless Air Conditioning Service, Ductless Heating & Cooling & Ductless HVAC

Loris, SC, Forestbrook, SC, Conway, SC, Garden City, SC, Myrtle Beach, SC & Carolina Forest, SC
When the summer heat and humidity sets in, you want to come home to refreshingly cool temperatures.  If your home lacks the necessary ductwork, you may be relying on numerous window units in the summer and space heating in the winter.  This is an extremely inefficient method of temperature control.  Window units require large amounts of energy, are unattractive, and pose a security risk.  Placed partially inside the house through an open window, they are often loud, destroy the view, and have difficulty handling high temperatures and excess moisture.  Conway Air Conditioning has your perfect solution.  A ductless mini split integrates simply and elegantly into your home, handling your temperature control without the need for major renovations.
Ductless HVAC systems give you the best in comfort and convenience!
The indoor units average about 7″ deep, are lightweight, attractive, and easily mounted high on the wall or ceiling.  The outdoor compressor offers a slim profile, and can be located in an inconspicuous spot up to 50′ feet away.  The two main components are connected by a conduit, which houses the electric line, drain line, and refrigerant tubing, and requires nothing bigger than a three inch hole in an outside wall.  The indoor units are individually controlled, allowing zoned conditioning, and saving money by heating and cooling specific rooms and not others.  
You can also customize temperatures to personal preferences.  Inverter technology enables the mini split system to continually adjust speed to match the exact demands of the home for superior comfort and efficiency.  You'll enjoy superior air quality and conserve energy by eliminating losses and dust associated with traditional ductwork.  And since there is no combustion process, flames, or hot surfaces, a ductless mini split is extremely safe, clean, and environmentally responsible.
Carrier Infinity Series Ductless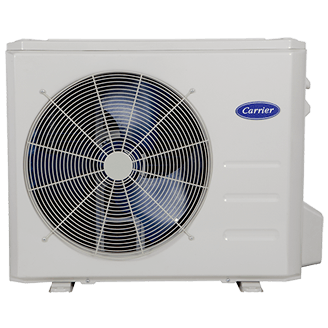 The new, ultra-efficient 42 SEER outdoor unit with built-in basepan heater offers year-round comfort. This system has an impressive cooling operating range that can maintain consistent capacity from -22° F to 122° F. In the winter, the system's heating capability can operate at 100% from -22° F to 86° F temperature range. Whatever the temperature in Conway, Red Hill, Aynor, Bucksport, Forestbrook, Socastee, Carolina Forest, Loris, and Garden City, SC, this system can handle the extremes.
Contact our team today to find out if a ductless heating system is right for you!
Since installation is critical to performance, you need an HVAC technician with experience in ductless technology.  As one of the oldest heating and cooling businesses in Conway, Conway Air Conditioning brings an extensive background, and unwavering dedication to every job we take on.  Our team of licensed technicians have the necessary expertise to perform a load calculation and properly size equipment.  We make sure each indoor unit is installed in ideal locations, and familiarize you with features and operation.  
Ductless HVAC Installation Socastee, SC | Ductless Air Conditioning Service Carolina Forest, SC | Ductless AC Service Red Hill, SC
Family owned and operated, Conway Air Conditioning has earned a reputation for quality, hiring only licensed, factory trained, and trustworthy professionals, who share our commitment to bringing the highest level of service to homeowners in Conway and across Conway, Red Hill, Aynor, Bucksport, Forestbrook, Socastee, Carolina Forest, Loris, and Garden City, SC.  Conway Air Conditioning … providing comfort to families for over sixty years.
Ductless HVAC Installation

∴

Ductless Mini Split Installation

∴

Ductless AC Service ∴ Red Hill, SC ∴ Carolina Forest, SC ∴ Garden City, SC